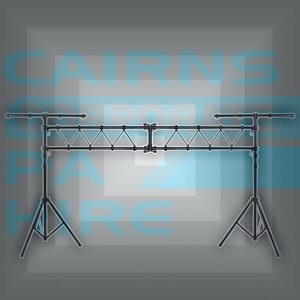 Cairns Corporate PA Hire has a lighting truss that is available for hire for people who want to mount several lights in the one area.  Great for bands, people also use this truss to hang their banners off.  The actual lighting truss consists of 2 light trees and a 3m long truss.  Ideal for those who have many lights that they want to fix to a truss within a concentrated area, such as a stage.
Hire Lighting Equipment Today
You can book lighting truss from us today by simply using the contact page to send us your request.  If you want to see our other lights for hire, check out our range of lighting equipment here.
---
Not what you're looking for? Click to return to the Cairns Corporate PA Hire homepage.