PA System (stands not included)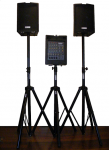 Our most popular PA system, this ultra potable PA system is ideal for those who want a simple elegant yet unobtrusive PA system that still delivers a quality sound. The system includes 2 speakers and a powered mixer that clip together into one portable unit with wheels and a handle for easy portage. The PA system itself has an incredibly low idle noise so you'll hardly know its there until you need it. Don't let its size fool you, this system can still pack a punch, with up to 100W a side.
The powered mixer itself is a 4 input (XLR or 1/4 inch jack inputs) mixer that has bass, mid, treble and volume adjustment controls for each channel as well as for the master. Each channel also has a pan and effect level setting so you can add as little or as much reverb or echo to each channel as you like. The PA system also has an RCA input and output so you can plug your iPod, MP3 player, CD player or laptop straight in and play your personal playlists or CD's.
Features of this PA System
Ultra portable – speakers and powered mixer clip together with wheels and a handle
Low idle noise – you won't know its there until you want it
Minimalist elegant design – small, simple and unobtrusive
4 channel powered mixer

Bass, mid, treble, volume, effects, gain, pain controls for each channel
XLR or 1/4 inch jack input for each channel
Master volume, bass, mid, treble controls
RCA input and output – plug your iPod, laptop or CD player straight in
Built in effects module – add reverb/echo to each channel