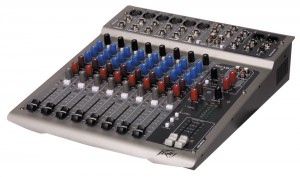 If your looking for simplicity, here it is.  No frills, no fuss, just hard working quality gear from Peavey that has everything you want and nothing you don't.
This compact and versatile 10 channel Peavey PV10 mixing desk has 6 mono and 2 stereo channels (8 inputs/10 channels) features 3 band EQ on each channel, XLR/Jack/RCA Mic and Line level inputs, an effects unit built in, Phantom power and sliders to control the levels.  This seems like a small thing but is very handy if your playing music and need a quick adjustment! It also features a separate monitor (foldback) channel. This mixing desk is great for either live sound or recording sessions.
If you're looking for an amazing sounding PA system, why not couple this mixing desk with a pair of 15″ EV powered speakers as we've done with the Power PA Package?  This will give you all the versatility you need for most gigs, with a professional sound, with minimum fuss.
You can book or inquire about hiring the Peavey 10 Channel right now by simply using the contact page to send us your request. Be quick though, this mixing desk is often booked out in the package with the EV speakers (understandably)!
---
Not what you're looking for? Click to return to the Cairns Corporate PA Hire homepage.