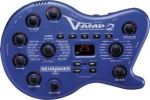 If you're looking for a guitar effects pedal but can't decide on which one, hire a V-Amp today and get them all in one unit!  The V-Amp (virtual amp) is a digital guitar effects processor that contains literally hundreds of sound combinations.  You can vary the effect type, the amplifier type, the cabinet type, you name it!  This particular V-Amp comes in a little carry case with a bag making it super portable.
You can use this V-Amp with a set of headphones, or plug it into a guitar amp to amplify the sound you've created.  Check out the Hughes & Kettner guitar amp for hire if you're looking for a quality amp.
You can book a V-amp portable effects module or guitar amp from us today by simply using the contact page to send us your request.
---
Not what you're looking for? Click to return to the Cairns Corporate PA Hire homepage.