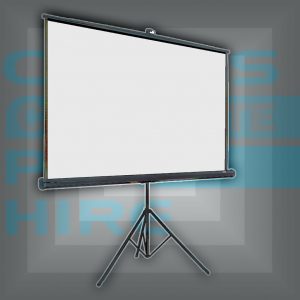 Having a projector is only half the story, you need a plain but bright surface to project onto in order to get a quality image.
We stock a variety of projector screens for hire of different sizes.  Our 80 inch screens are approximately 170cm x 100cm 16:9 aspect ratio.  This screen comes with a tabletop tripod mount.
Our 100 inch projector screen measures 203cm wide x 152cms high (Diagonal = 100 inches) and has a 4:3 aspect ratio. The benefit of this is that you can actually use this screen as a 16.9 display (wide-screen), you simply don't extend the screen out to its full height! How's that for versatility?
The screen material itself is matte white (low shine) and it has a gain factor of 1.2. That means that your image will actually appear 20% brighter on this screen than on a standard screen with a gain factor of 1.The screen comes on a height adjustable, freestanding portable stand.
The 120 inch screen is a front or rear projector screen and can be hung from a truss.
---
For best results you can pair this with a quality projector for great results. Read more about our great looking projector and screen combo here.