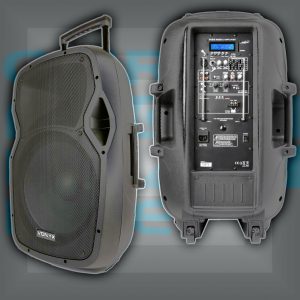 If you've got a beach wedding or party coming up then this battery operated powered speaker is the ideal choice for you!  This battery operated speaker is ideal for situations where you don't have access to a power source but still want music or want to make speeches.  In fact this speaker is so clever that it has built in microphones and a music player!  You can't ask for more than that!  Having music playing which nowhere near a power supply will definitely turn heads.
Battery Operated Powered Speaker Features
The rechargeable internal battery has a reported life of up to 8 hours which is largely dependent on how loud you play the music.  If you are near a power point during that time you can plug it into mains power, as it recharges and keeps playing at the same time!  It has built in wireless microphone capabilities (receiver built in to the speaker), built in USB/SD card player which means you can play your music off a USB or SD card, built in mic and line inputs, RCA inputs (for your iPod/MP3 player) and built in trolley!  Also with bluetooth connectivity.  You get the feeling this super smart battery operated speaker is made to be ultra portable.  No wonder this speaker is so popular, you can use it for almost anything, almost anywhere.
You can book a battery operated powered speaker with us today by simply using the contact page to send us your request.  Don't delay, this piece of equipment is super popular and needs advanced booking!
---
Not what you're looking for? Click to return to the Cairns Corporate PA Hire homepage.