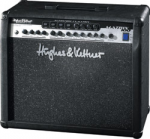 Need a guitar amp for your upcoming gig?  Cairns Corporate PA Hire has exactly what you need with this Hughes and Kettner Guitar amplifier.  Although not the most recognisable brand Hughes and Kettner are renowned for the quality of their guitar amps (just do a Google search if you don't believe me!).  This guitar amp is plenty punchy, designed for rock.  Of course the amp is also exceptionally versatile with 4 programmable channels and a digital effects processor built-in!  This means that if you really want to you can do away with your effects pedals for the night and just rely or the self-contained unit.  It is a 100- Watt solid state amp, which will definitely get you out of trouble in most situations!
You can book the Hughes & Kettner guitar amplifier from us today by simply using the contact page to send us your request.
---
Not what you're looking for? Click to return to the Cairns Corporate PA Hire homepage.