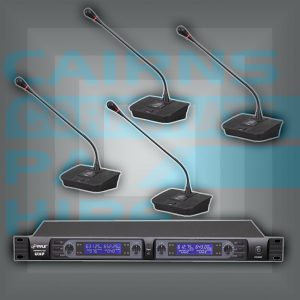 A wireless desktop conference microphone is the ideal microphone to use when your presenters are seated as you commonly have at conferences, forums, panel discussions, summits, business meetings or other events.  Our desktop microphones are unique as they are actually wireless!  That means no more cables that visually detract from the appearance of your event and that your speakers have to avoid.  It also means that you have maximum versatility without the need to run cables which also saves you time and money on labour costs.
The wireless desktop conference microphones available from Cairns Corporate PA can also be used with a lectern to give your event the professional look and sound.
Our microphones have:
Programmable UHF frequency on each mic with 200 available channels to choose from on each microphone
Excellent sound quality
Wireless mic means fast and easy set-up, with maximum flexibility
Adjustable volume on each microphone to give the speaker immediate control (perfect when you have soft and loud talkers)
Elegant modern design
Range between 50-100m from the receiver unit
You can book a wireless desktop conference microphone now by simply using the contact page to send us your request.
---
Not what you're looking for? Click to return to the Cairns Corporate PA Hire homepage.