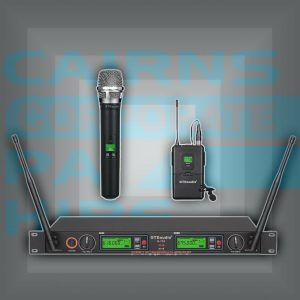 Using a wireless microphone is an ideal way to make your wedding, party or function look professional and let's your party have a natural flow.  You don't want people tripping over cables all night, least of all when they are trying to make a speech.  Wireless microphones are also an ideal way for the speaker to interact with the audience as they can move around easily and naturally.  Perfect for questions or comments or singing along with music!
Wireless Microphone Details
Cairns Corporate PA Hire has wireless microphones that are ideal for your event.  They can be up to 200m away from the receiver (depending on the surrounds and line of sight) which gives you plenty of room for even the biggest wedding reception or birthday party.  Featuring a wide range UHF frequency response, the microphones we hire have a low noise at idle so you won't get that constant annoying hiss, and because they are equipped with both a power and a mute switch they are pop-free.
For the tech minded, some of the features of our wireless mics include:
800 selectable frequencies
Backlit LCD displays RF, AF, Battery Level, Channel Freq and mute status
True Diversity Operation for increased range and decreased drop-outs
Automatic frequency scan to find best channel
Two individual XLR outputs and one mixed 1/4″ jack output
Mic Frequency response from 35Hz – 18KHz
You can book a wireless microphone from us today by simply using the contact page to send us your request.
---
Not what you're looking for? Click to return to the Cairns Corporate PA Hire homepage.