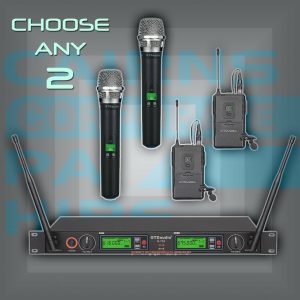 Wireless microphones give your function a professional and streamlined look, and lets your event flow naturally.  You can choose from the traditional handheld, lapel or even headset mic at no extra cost.
Using wireless microphones ensures that you or others won't trip over cables the whole time, which is exactly what you don't want to happen.  When using a wireless microphone the speaker is free to roam and interact as much (or as little!) with the audience as they wish, without fear of being constrained to the front of the room. Many people prefer to just make a short speech from the safety of their table and so having a second microphone is a great asset; you can have an MC or chairman and still have a microphone free for questions or comments.
Dual Wireless Microphone Details
Cairns Corporate PA Hire has wireless microphones for hire that are ideal for your function or event.  With a range of up to 200m (depending on the surrounds), our wireless microphones allow for maximum flexibilty.  The wide-range frequency response, both power and mute switches (which makes them pop free) and their low noise at idle make our mics an ideal choice for your function.  In case you're wondering, the dual microphone system operates on 2 different channels and with up to 800 selectable frequencies to choose from there is next to no chance of interference between the microphones.
For the tech minded, some of the features of our wireless mics include:
800 selectable frequencies between UHF 610 – 680 MHz
Backlit LCD displays RF, AF, Battery Level, Channel Freq and mute status
True Diversity Operation for increased range and decreased drop-outs
Automatic frequency scan to find best channel
Two individual XLR outputs and one mixed 1/4″ jack output
Mic Frequency response from 35Hz – 18KHz
You can book a pair of wireless microphones with us today by simply using the contact page to send us your request.
---
Not what you're looking for? Click to return to the Cairns Corporate PA Hire homepage.