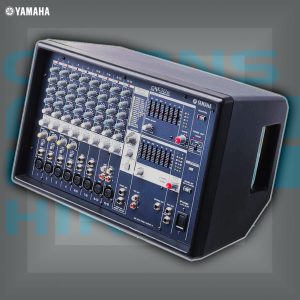 The Yamaha EMX 512sc powered mixer is a simple to use yet extremely powerful 12 channel mixer. The Yamaha brand is synonymous with quality and reliability the world over and this mixer explains why.
Instead of trying to explain the features, click on the images to the right to have a closer look. It packs 2 x 500W amplifiers (4 ohms), multiple effects, phantom power, easy line or mic level selection, a separate monitor/foldback output and the list goes on. It is also extremely portable.
If you're looking for a great set of speakers that are made to go with this mixer then look no further than the Yamaha C115V passive speakers that we also hire. We've also put together this high quality PA Hire package for your convenience.
You can book inquire about hiring our Yamaha EMX512sc powered mixer right now by simply using the contact page to send us your request.
---
Not what you're looking for? Click to return to the Cairns Corporate PA Hire homepage.