The Beach Wedding PA hire package contains everything you need for a ready to operate PA system that does not require a power supply. Don't be fooled by other smaller systems, this speaker is a large 15 inch speaker which makes for great quality sound which is important as you walk down the aisle. This package is ideal for beach weddings and events where no power supply is available, but you still want to play music or make speeches that can be easily heard. The battery powered speaker is ideal for wedding ceremonies and playing music, and being ultra portable it can be used just about anywhere.
BEACH WEDDING PA HIRE PACKAGE inclusions: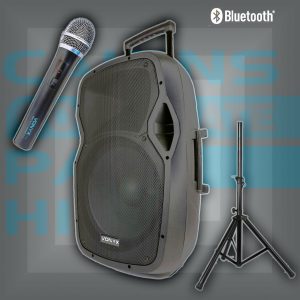 1 x Large 15 Inch Battery Powered Speaker
1 x Speaker Stand
1 x Wireless microphone (batteries included)
1 x 3.5mm jack aux cable (for your iPod/MP3 Player/Stereo/Computer)
Optional: Upgrade to include 2 x Wireless microphones for an extra $10
The battery powered speaker has an internal rechargeable battery with a life of up to 8 hours, depending on how loud you are playing music through it. The speaker can also run off mains power if you require it for an extended period of time, allowing you to continue playing music while the speaker batter is recharging. The Beach Wedding PA Hire package comes with a wireless microphone (handheld, lapel or headset) to allow you to make speeches or conduct your wedding ceremony without needing to shout, and an RCA cable so you can connect your iPod, MP3 player, laptop or CD player. The battery powered speaker also comes with a built in USB/SD Card Media (MP3) player as another option to play your music.
PRICE: $145
or $155 to upgrade to 2 x wireless microphones
Book the Beach Wedding PA Hire Package Today!
The Beach Wedding PA Hire package is one of our most popular hire packages for weddings and outdoor functions, so in order to avoid someone else booking your date we suggest booking well in advance of your wedding or event.  If you want more information on this package or want to book, just send us an enquiry here!
---
Not what you're looking for? Click to return to the Cairns Corporate PA Hire homepage.