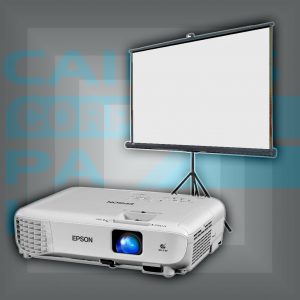 If you're looking for the professional look or just want to entertain your guests, looking no further than one of our projector and projector screen hire combos. A quality projector and screen can often be the difference that makes your conference, event or function memorable for your clients, colleagues or guests. Our packages are extremely affordable and we also offer a discount for multi day hires, perfect for conferences or retreats.
The package includes one of our high quality EPSON projectors that are easy to use and extremely versatile. You can even play an image slideshow off a USB stick without needing a computer! The projector is elegant looking and is packed full of features like HDMI, VGA, S-Video, RCA, USB, LAN and Audio, and projects full colour at an extremely bright 2600 Lumens or higher with a high contrast ratio. What does this mean for the non-tech savvy? It means you can plug almost anything into it, and it will project a bright, crisp, full colour, quality image even in relatively bright settings. You can read more about our EPSON projectors here.
Of course, a projector is only half the story, you don't want to let yourself down by projecting onto a dull inconsistent surface! That's why we've included one of our large 100 inch screens (diagonally) with this package. The screen is freestanding, adjustable height, matte white, and a gain factor of 1.2. What does this mean? Low shine, rich colours, professional looking and the screen actually makes the projected image 20% brighter compared to other screens with a gain factor of 1. You can read more about the projector screens on this page.  If this is too large for your needs then we also stock smaller 84 inch projector screens which can be substituted in no problem.
Don't delay, as you can image these combos are extremely popular and we only have a small number of units available for hire. Contact us now using the online contact form found here for an obligation and sales pitch free quote now.