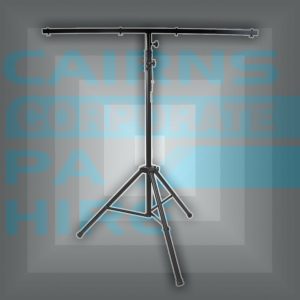 Cairns Corporate PA Hire also hires light stands or light trees to mount your party lights on.  Each of these stands has 4 light fittings available on the 1.2 meter T-piece at the top.  Perfect for putting your hired party lights on to get them out of everyone's way (can be extended up to 2.7 meters high) and pointing where they should these matt black finish lighting stands are an essential add-on.
You can book a variety of lights for your party from us today by simply using the contact page to send us your request.  If you want to see our other lights for hire, check out our range of lighting equipment here.
---
Not what you're looking for? Click to return to the Cairns Corporate PA Hire homepage.