The Power PA package is perfect for those who want a more powerful PA system, are having a larger event, want better quality sound or just need a bit more versatility than normal. This package features top of the line EV (Electro-Voice) 15 inch powered speakers that can pump out a massive 1000W (peak) each, as well as an extremely versatile 10-channel mixing desk. This aesthetically pleasing set-up is perfect for elegant environments such as a wedding reception or functions, while at the same time packing an enormous punch if you need it. It is also great for musicians who are picky about their sound, and the mixing desk features sliders which make life very easy for everyone as well as a separate monitor (foldback) feed if required.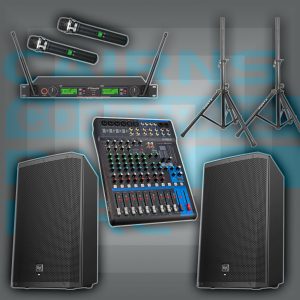 POWER PA HIRE PACKAGE inclusions:
2 x High Quality EV 15 Inch Powered Speakers
1 x 10 Channel Powered Mixer
2 x Quality Vocal Wireless Microphones (Handheld, Lapel or Headset)
2 x Microphone Stands
2 x Speaker Stands
All required cables including iPod cable
PRICE: $250
Book the Power PA Hire Package Today!
Due to the high quality and versatility of these speakers, this package is becoming extremely popular with those who have a dance floor, band, DJ, or large party, especially at such a low price. To avoid disappointment we recommend making your booking well in advance or risk missing out altogether!
Contact us using our easy to use contact form to inquire about availability a.s.a.p. as we operate on a first come, first served basis!
---
Not what you're looking for? Click to return to the Cairns Corporate PA Hire homepage.