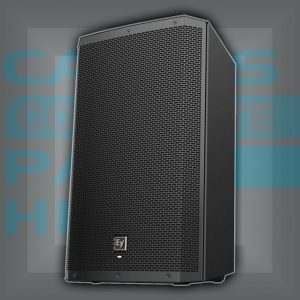 If you're serious about the quality of your sound then look then look no further than these high quality EV Powered Speakers.  These high powered 15 inch speakers have a 1000W D Class amplifier, and they really pack a punch!  Now you don't have to comprise on your sound quality if you want to hire powered speakers, EV are renown in the industry for their quality and reliability.
The 15 inch woofer means that you can get that bass that you can feel in your chest with or without a sub, but the high frequency driver gives you that clarity that you can only get with high quality speakers.
These speakers are super versatile too, and can be used in a number of different ways:
Combine with a small mixing desk to create a high quality PA system that is perfect for musicians
Daisy chain 2 speakers together to create a high powered, high quality yet simple to use PA system
Perfect for DJ's to create that big sound without needing massive subs
Use a single speaker on its own and plug your iPod in
Pretty much anything else you can think of…
More Details
These speakers offer absolutely superb sound, as you would expect from an industry leader like EV.  The speakers can be used stand alone or combined with other speakers to create a custom PA system.  They have a massive 1000W D-Class amplifier, so you will be suprised by how loud these speakers can go, especially with their compact design.
They have a digital display on the rear that makes them super simple to use.  They have an iPod/MP3 input, as well as two multipurpose Jack/XLR inputs.  They also have an XLR line out so that you can join them together.  The inputs can be mic or line level.
You can book our EV 15″ powered speaker with us today by simply using the contact page to send us your request. Don't delay, as you can imagine they are extremely popular and book out fast!
---
Not what you're looking for? Click to return to the Cairns Corporate PA Hire homepage.