13 Sep

Audio Visual Equipment Hire for Conferences, Meetings and Workshops

Planning your next workshop, meeting or conference in Cairns, Far North Queensland? Cairns Corporate PA Hire has your audio visual needs covered. Our focus is on delivering professional and reliable sound equipment, lighting equipment and projector hire at an affordable price.
Deliver your Presentations with Confidence
A quality display of your images and presentations is essential for any professional meeting or conference. Our projectors for hire are bright and high quality for a crystal clear image, and can be projected onto one of our projector screens (84 or 100 inch screen). To cater for those unexpected conference scenarios of presenters having different devices, our projectors can handle almost any type of input including HDMI, VGA, RCA, USB, LAN, USB, S-Video. It is even possible to run an image slideshow directly from USB, with no need to connect to a computer or tablet.
We offer combined package hire if you require both a projector and screen, as well as separate hire if you only require either a projector or a projector screen. For maximum value, we also offer excellent value hire packages including our Presentation Package which includes both audio and projection equipment.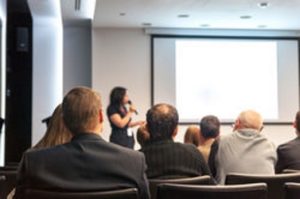 If you are speaking to a medium or large sized audience and require a lectern, we have portable lecterns available for hire. Featuring solid castor wheels for easy of mobility, a stylish black finish and light coloured top panel and shelf, our lecterns are designed to be modern yet unobtrusive, providing your presenter with everything they need without detracting attention.
To ensure your audience can hear your presenter's every word clearly, our portable lecterns can be paired with a wireless microphone (handheld/lapel/headset) or a wireless desktop conference microphone, and/or a PA system. A wireless microphone setup is ideal if your presenter requires a more flexible audio solution, as this enables them to roam the room and interact with the audience or group. The wireless desktop conference microphone is suited to more static delivery, either seated at a function table or for presentations delivered at a lectern.
As part of our service we offer free* delivery and set-up, with our professional team able to sort out the technical details to get your conference, meeting or function running smoothly. To ensure your next event runs seamlessly and is delivered in line with your budget, contact Cairns Corporate PA Hire for all your conference equipment hire needs.
* delivery area and minimum hire cost apply